---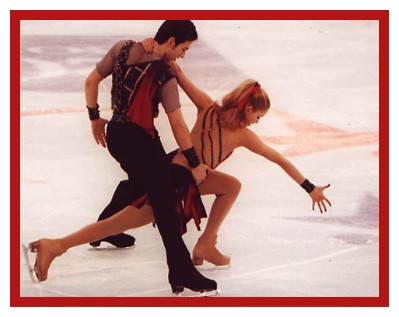 Photo copyright 2001 by Tracy Marks.
---
This page was created and is maintained by Yasmin. Any questions, comments or suggestions can be sent to me by clicking on my name.
I am not (obviously) Tanith or Ben, nor am I connected to them in any way. E-mail them at their official site, or write to them care of the Detroit Skating Club:

Tanith Belbin and Benjamin Agosto
c/o Detroit Skating Club
888 Denison Court
Bloomfield Hills, MI 
48302 USA

The photographs used on my pages are not mine, so please do not contact me about using or reproducing them. They are the property of Susanne Kempf, R. Nakajima, Jay Adeff, Tracy Marks, Ann M. Jensen and Tino Eberl and have been used with their kind permission. The photos may not be used in any way without their consent. Please visit Mr. Adeff's website, Ms. Marks' website, Webwinds, Ms. Jensen's photography site and Mr. Eberl's website, The Figure Skating Corner to view more of their photographs, and the 1999 JGP Nagano page at the Yu-Kan Skate Club to view more photos by Ms. Nakajima. Thanks to all the photographers for letting me use their lovely shots.
I hope you've enjoyed the site and again, feel free to e-mail me with anything you have to say.
Happy skating,
Yasmin, Webmistress
---
HOME | Bios | Competitive Record | Program Info | Photo Gallery | Links | Contact