---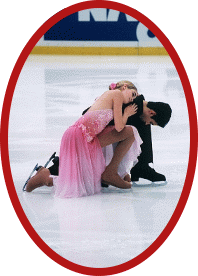 Tanith Belbin and Benjamin Agosto are the Junior World Champions and two-time United States silver medalists in ice dance. After being matched by coaches Igor Shpilband and Liz Coates in the summer of 1998, Tanith, 17, and Ben, 19, earned success early, winning gold medals in their first two competitions together. At the 2000 U.S. Nationals, they won the junior dance title in their first try, and then went on to take the bronze medal at Junior Worlds, a rare feat for such a new team. The 2000-01 season was a triumph for these talented teenagers, who not only swept the Junior Grand Prix Series, winning both the Mexico and Germany events and the JGP Final, but also claimed the silver medal at their first Senior Nationals. This earned them a spot on both the Junior and Senior World teams, and also won them many new fans. In their first full season as seniors, 2001-02, Tanith and Ben proved their talent with solid finishes on the Grand Prix circuit, a second silver medal at U.S. Nationals, the Junior World title, and a 13th place finish at senior Worlds. So far, 2002-03 has been a breakthrough season for T&B, with two medals on the Grand Prix circuit and a strong fight for the U.S. title that culminated in a third silver medal. With an innate elegance, wonderful connection, and a presence that extends far beyond the boards, this charismatic couple definitely has that intangible It.
---
Home
This page is where you'll find the latest news on Tanith and Ben, and info about any of their upcoming competitions, TV appearances, or other events.
Bios
Want to know more about Tanith and Ben? Read their bios here.
Program Info
Rhythms and music info for past and present T&B programs.
Competitive Record
Results from over their years as a team.
Photo Gallery
Tons of photos - from T&B's early competitive days to now!
Related Links
Articles, links to past results, and other related links.
Contact
About the site owner, contact info, and other site information.
---
The Latest News
March 28, 2003 - Tanith and Ben move up six spots in the world rankings, finishing seventh at the World Championships! Way to go, T&B!
January 17, 2003 - After an exciting competition in which they came one judge away from capturing their first U.S. title, T&B are now three-time U.S. silver medallists! Full results can be found here, along with on-ice and backstage pics from the competition. Tanith and Ben also got a fair share of media attention during the event, including two articles in the Globe and Mail, an article in the Ottawa Citizen, and several mentions in the Detroit Free Press, including a pre-event article, a post-OD article and an article after the FD. There are also some gorgeous photos at the Yahoo News site.
November 16, 2002 - Tanith and Ben follow up their medal at Skate America with another bronze at Trophee Lalique! Whee!
October 26, 2002 - MAJOR CONGRATULATIONS to T&B on their very first senior Grand Prix medal, a bronze at Skate America. Here are the final results, as well as some FD pics and backstage pics.
October 25, 2002 - Tanith and Ben remain in third place and on track for their first senior GP medal after the OD at Skate America! Here are the full results and some OD and backstage pics. T&B are also starting to get some major press! Beverley Smith of the Globe and Mail has an article about them here and there's also an article in the Spokesman Review.
October 24, 2002 - A new season begins! Tanith and Ben are in third place after the compulsory dance at Skate America... check out the full CD results and some CD and backstage pics.
October 1, 2002 - Tanith and Ben are on the cover of the October issue of the USFSA's Skating magazine! Check out snippets from the article and some absolutely adorable pictures here.
---
The photo in the banner above is copyright 2001 by Tracy Marks, and the framed photo is copyright R. Nakajima. Please do not use or reproduce without their written permission.
---
HOME | Bios | Competitive Record | Program Info | Photo Gallery | Links | Contact